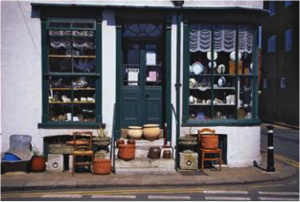 Just because your small business consists of just one CPA, which is you, doesn't mean you can't be taken seriously as a professional. Whether you run your own insurance agency, travel agency, medical practice, antique store or any other type of small, independent business, you can get organized in a manner that will have your customers, clients or patients seeing you as professional as any larger, established business. The details are important, and one of the most vital steps is to be organized.
Getting organized is not just about putting things away or cleaning it up, but also to be able to retrieve those items again at the time that you need them. An important office management tool to assist you in retrieval is to use Paper Tiger Filing System software to keep track of what you have, what you are storing and where it is being stored so that the items can be easily and quickly retrieved. Whether you need to find a receipt for tax purposes or that antique plate for a customer, indexing your documents and other items you need to keep track of will cut down on time spent looking for items and cut down on stress because you can't find something when needed.
Even if you are the owner, operator and entrepreneur behind your own home office based business, you have to keep things organized and make sure to keep your office area decluttered. The main trick to this is keeping your records in order. While many businesses and offices are switching to keep things as paperless as possible, it is not realistic to expect you will not have any physical documents to manage. Not to mention, some physical documentation just can't be paperless, such as passports, books, binders, CDs, etc. For one reason or another, you are going to have some paper files or other documents, and have to create a filing system.
Organize to Function Efficiently

Thinking like a small business is one way businesses take a wrong turn. If you think like a small business, you will end up acting like one. In return your potential customers, clients or patients will see you the same way. Go ahead and envision your business as growing into the next megastar in the industry. Set yourself up for success this way.
One way you can do this is to make sure your office has the organization required to function like a larger business, agency or practice. It starts with the filing system you have set in place. As an example, if you have a travel agency and a couple comes in and you want to show them brochures for a trip to Italy, but cannot locate the documentation you need, you are going to come across as unprofessional. Not to mention, you will more than likely end up losing out on business each time you struggle to find some sort of document. This is true for any records for any type of business. People have less time than ever to wait while you try to find their health records, tax filing or whatever records they want or need.
Organize For Professional Success
Getting Paper Tiger file indexing system software in place is a great way to make the most of your record management system. What this software does is enable you to type into your database not only the names of files but also many other keywords that you could name each file. By using different search terms for each record, you will never have to struggle to recall what you've named the file and you're not confined to the one or two-word name on the hanging file folder tab if you were filing alphabetically. To retrieve the document you will use the filing system software search engine to type in one of the possible keywords and your software will tell you exactly what file number it is and where it is located.
So for paper filing, you would first set up all hanging file folders in your file cabinets at one time using the numbered tabs that you print out from the software and they never change. You input information relating to each document in the database's digital file location. Paper Tiger assigns the file number to the document or set of relating documents that you want to put in the same hanging file folder. You can give the document any name you want without any worry about finding it later. This is because the system will allow you to tag keywords that describe all documents that you put in your hanging file folders. For documents that you want to add to the same file, simply edit the Item and add additional keywords necessary for the new document(s).
Because the hanging file folders are already setup and waiting for your information, you eliminate the time-consuming hassle of having to find and create a file folder and tab each time you want to file something. Again, the software will assign an index number to each file you add to be put in the first available empty hanging folder.
When you've converted your filing system to Paper Tiger, and you need to find a file later, you simply conduct a Google-like search in the database for whatever keyword you're thinking on that day to find where your file is located.
By indexing your paper files that need to be kept in hard copy, you don't have to spend hours searching through stacks or boxes or filing cabinets just to find one particular file. It has never been easier to keep track of important company documents, and using Paper Tiger Filing System Software for document management will help you get organized and stay organized! And remember, anything that you can put a number onto, you can index into Paper Tiger for an organized life!
---
Tags: Declutter, document management software, filing system software, get organized, Organize, paper filing systems, Paper Tiger "finding" filing system
Leave a Reply