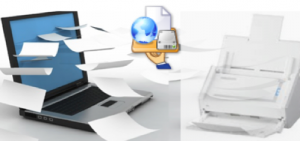 One of the things that many people worry about when it comes to their computers is how safe are their electronic or digital files. After all, there are many things that can happen to cause people to lose important files, like a computer crash or a virus that corrupts your harddrive, and often, it is pretty much impossible to get these files back once they are lost. Thank goodness there is a really easy way to get around this problem; and that is to use a digital filing system that is Internet based, like Google Docs. That way, no matter what computer you are using, you can access the files you want, and if something happens that causes you to lose files on your computer, you will be able to access them through the Internet. You will never lose a file again when you are using an Internet digital filing system.
Don't Be Afraid of Computer Crashes
Computers can be truly wonderful things, but when they are not working right, they can also be some of the most annoying machines in the world. There are all kinds of little problems that can crop up for computer users, with one of the most common being computer crashes. Unfortunately, most of the time when a computer crashes, there is no way that you can get back the information that you had stored on it. This means that you will lose all of your files, including really important things such as family photographs, or that critical presentation from the office that would take hours to recreate. Instead of waiting for something like this to happen, you can have all of the files on your computer organized, or at least backed up to an online digital filing system. That way, even if you do have a computer crash and lose everything on your harddrive, you will still have access to all of your important files.
Work from Anywhere
Because of the Internet, it is possible for many people to be able to work from anywhere they want, and they don't have to be chained to a desk in an office all day long. If you want to do work from home and your employer has given you the go ahead, you are going to need to be able to access certain files just the same as you would from the office. If your employer is using a digital filing system, you will be able to access all of the files you need to be able to do your job from anywhere, using any computer. This means that even if you are not able to make it to work, such as on a day when there is severe weather, you will still be able to get your work done, especially if you are on a tight deadline.
There are a lot of advantages to using a digital filing system. You can access files from anywhere in the world, so even if you are traveling on business and you have forgotten an important file at the office, as long as it is in a digital system, you can get your hands on it. If your employer is not already using a digital filing system, make the suggestion as soon as you can. You may even receive credit for saving the company time and money.
How Google Docs Works
Using Google Docs, you can store your digital files, and you will also be able to work on the files in the same location that they are stored. Google Docs is part of the Google Eco System that includes Google Apps through a Google or Gmail account – there are modules to perform word processing, spreadsheets, presentations, email, calendar, to-do list, contacts, photos, music, etc. This makes it very easy to work on the files you are storing in Google Docs.
In addition, if you want to continue to use your Microsoft Office software (Word, Excel or PowerPoint), you can do that and get many of the benefits of the Google Cloud. Google's product "Cloud Connect" allows you to continue to use your Microsoft Office software on your local computer but store, share and collaborate. This is a great way to use software that you already know but have the benefits of the cloud, including automatic backup, using Google. See Google Cloud Connect…..Sync Your Microsoft Office Documents
Google Docs makes sharing and/or collaborating your digital files very easy. Now you can scan in your paper and immediately share the PDFs with your business associates.
Google Docs (all your digital files) can even be backed up offline to your local computer, as you can see from this article at Now You Can Backup Your Google Docs to Your Local Drive!; or you can select another service that will automatically and constantly backup all your files stored in Google Docs (including your GMail – Google Mail) to another entirely different system for safekeeping.
You can now Work Offline With Your Google Account and, Google Docs users not only have the ability to easily share and collaborate with others, to view data from any web device, but also have the peace of mind of automated backups, for an efficient document management system for organizing digital files.
Keeping Up With Paper and Digital Files
We recommend using the Digital Tiger function in Paper Tiger Online filing system software to connect to Google Docs for a combined document management software solution. You can still index your paper files that you need to keep in hard copy format and other physical items such as books and manuals into Paper Tiger Online, and use Google Docs through a Google or Gmail account for your digital file storage. Google Docs is the lowest cost digital file storage system available, and is more convenient than storing your digital files on your hard drive (or multiple computers) that would take up valuable memory, or keeping up with CDs or Flash Drives.
Some people are converting their filing systems to a more paperless environment, and Google Docs is great for storing the digital files that are scanned. Combining Paper Tiger's indexing method, there's a way to organize and index all those items that simply cannot be scanned, i.e., passports, contracts, binders, books, CDs, DVDs, etc. Then by using the Digital Tiger function in Paper Tiger Online, you will be able to search and find both your paper/physical items that you've indexed into Paper Tiger and your digital files that you've uploaded or created into Google Docs format relating to the same keyword search from one software system, Paper Tiger.  Digital Tiger, powered by Google Docs, is a free add-on with a paid Paper Tiger Online (Basic or Pro plan for now), to connect your Paper Tiger Online account to your Google Docs account.
If you choose to use the combined document management software solution with Paper Tiger Online and Digital Tiger, powered by Google Docs, you will be setting yourself up for enhanced productivity for the future so that you can find anything in five seconds or less!
---
Tags: Digital Files, digital filing system, document management software, filing system software, paper filing systems, paperless, The Paper Tiger 'Finding' Filing System
Leave a Reply