During this webinar, Anne discussed the basic concept of organizing both paper and digital files. She demonstrated the following to show how to use Paper Tiger more effectively so you can get organized and be more productive.
Get started with Paper Tiger Online.
Created a Database, created a Location, created Items, and print labels for items.
Demonstrated a work-flow example by filing items from her inbox.
Demonstrated how to connect Paper Tiger Online to Google Docs and search from Paper Tiger to find both paper and digital files.
Find Anything In Your Office In 5 Seconds or Less…Guaranteed! Watch the webinar to learn more.
As information, Anne is a professional speaker, productivity expert, professional organizer and author. If you want to learn more about Anne and her services, please visit her website at www.StrategizeAndOrganize.com.  She may be in Colorado, but she's nationally recognized as an expert and works with people throughout the US in person and virtually.
You can contact Anne at amcgurty@strategizeandorganize.com or by phone at 303 881-0174.
See more information here on Paper Tiger Filing System Software for Document Management
Filing System Q&A from the Webinar
Q: How secure are the digital documents that you scan in that are stored in Google Drive?
A: Information security is a top priority at Google… For more information, see Google Apps security whitepaper which is found at http://www.google.com/support/a/bin/answer.py?answer=60762
Q: Can you scan documents in and route to an action file?
A: You can set up a 'collection' or 'folder' in Google Drive for an action file.
Q: I would need 2 files, 1 for hard copy, titles, etc, the other electronic for all files, including vehicle titles?
A: With Paper Tiger Online and Digital Tiger, powered by Google Drive, you would be able to index your hard copy files, titles, etc. and upload your electronic files to Google Docs format, and be able to search  from Paper Tiger Online to find both your hard copy files and your electronic files. When Digital Tiger is activated, search results are produced from both apps, Paper Tiger Online and Google Drive. See this knowledge base article that gives an overview of what Digital Tiger is and includes a screen cast for activating Digital Tiger: http://thepapertiger.com/support/articles.php?id=20297536&catId=20008411
Comment: I want to use it to organize other things. I have a million tapes, CD's, and papers and need to get a handle on the best ways to set up them.
Response: Assuming Anne's webinar gave you a good idea on how to handle indexing your paper files into Paper Tiger by creating a Location for your Action files and a Location for your Reference files. Below is an example for your CD's, and can be used to implement the same concept for your tapes:
1. Name a Location CDs, with capacity of 100 (you can increase this later if you need to) Then print labels for the 100 items ready to affix onto each CD as you index it.
2. Begin indexing your CDs individually by adding a new item in this Location. I would name the item by the name of the movie or topic of the CD, and continue with something like the following:
-Item Name: (name of the movie
or topic of the CD
)
-Keywords: (actors/speakers, length, rating, brief description)
-If you have Professional or Pro edition, you will be able to apply a Category to the item. If so, add new category for either drama, fiction, comedy, historical, etc. (as info, the Basic edition does not have the Category function) If you have Basic, then you can add the category to the keywords section as well, then when you search for a specific category, Paper Tiger will bring up all of the CDs that you've indexed with that category, which is basically the same thing that would happen if you were to select the Category drop down box in Professional or Pro.
3. As you index each CD, affix the corresponding label to it and store in your new place. Here is an example of numbering CDs in a CD binder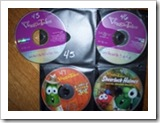 Comment: I use Paper Tiger to keep track of car records and other hard items.
Response: This is a great example of Paper Tiger's flexibility in getting organized!
---
Tags: document management software, document management system, filing system software, get organized, paper filing systems, Paper Tiger "finding" filing system, Productivity, professional organizer
Leave a Reply