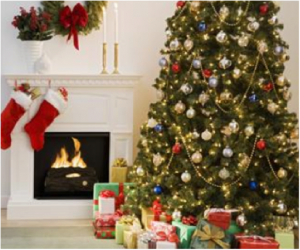 Are you already organized or do you need to get organized before the busyness of the next couple of months go in full swing? Yes, it's that time of year again, already! Time to get the house spruced up for the fall and winter holidays that you and your family recognize and celebrate. Fall and/or Halloween, Thanksgiving, Hanukkah, Christmas, New Years! That's a lot of decorating and celebration within just a couple of months. With the holiday season upon us, decorations are becoming an everyday sight. Are your decorations organized in 1 or 2 boxes or stuffed wherever you could find room last year? Is the Christmas tree in a box never to be found again in the attic? Do you dread wasting hours untangling lights?
It can be a chore when trying to locate where you have certain decorations stored when it seems some are in the garage, some are in the attic and some have made their way into the basement. Or you may have them all tangled together just to keep them all in one place. The problem is, this big tangled mess can cause damage to the seasonal décor you have stored. This may even make you so frustrated that you opt to forgo adding any holiday cheer to your home or lawn altogether.
According to IBISWorld, Americans spent 13.34 billion dollars on holiday decorations and costumes alone in 2010. Can you envision how much that number has grown since then? Year after year, we purchase more and more decorations in addition to the ones we already have. The countless ornaments and lights could take up a lot of space in your garage or attic and become quite pricey. But, what if there was a way to put the fun back in decorating AND save yourself from becoming another shopping statistic? What if you knew exactly which box your favorite set of Christmas candles were?
The important thing really is to use a filing system software like Paper Tiger to keep track of what you own, what you are storing and where it is being stored so that the items can be easily and quickly retrieved when you need them. You might have thought Paper Tiger was just for paper! But actually, you can index virtually any physical object into your Paper Tiger database. Indexing your items into Paper Tiger filing system will ensure that you know exactly where these things are, before you end up buying duplicates of something because you can't find the original. Documenting or indexing your belongings also helps other people who may need to retrieve things for you. With a quick search in the software database, anyone will be able to find an item and also know where it should be placed when it needs to go back to the storage location.
Getting Organized Now For Your Holiday Decorations!
Now you can get organized with Paper Tiger Filing System Software and know where everything is with a simple search in the database. As the seasons and holidays change, so can your home, with less stress.
You can still win 1st prize in the Homeowner Association's best-decorated home contest without buying new decorations each year, because you can find what you already have without a lot of stressful searching. Paper Tiger allows you to give each set of holiday decorations a home of its own.
Imagine if you found all the decorations you've purchased for each holiday, each year in one place. Imagine no more! Not only will all the decorations be right where you left them next holiday season neatly packed away, but also the combination of all the decorations will allow you to be really innovative when decorating next year. Maybe take the stockings you've accumulated over the years and form a mixed pattern above the fireplace. No fireplace? Use decorative ribbon as a bed for glass ornaments in a fruit bowl as a centerpiece in the dining room for a jovial meal. Before you run rampant with all the new decorating ideas, let's organize the decorations you currently have.
-First check every nook and cranny of your house for decorations. Take your flashlight in the attic with you. Gather the decorations so that you can begin to sort them.
-Then, sort the decorations by their various holidays. Santa and his reindeer, the Thanksgiving harvest table kit and pastel plastic Easter eggs should all go in separate piles. If you don't already have storage boxes or containers, grab a couple from your local retailer to organize your items. Depending on the amount of items you have, you might need at least 1 storage container for each holiday.
After you have all holiday decorations separated into the appropriate pile, add Paper Tiger to the equation. Choose a title for the Paper Tiger location to correlate to your physical storage for the decorations of each holiday. Maybe your decorations have trickled into four piles; Halloween, Thanksgiving, Christmas, Spring. So name a 'location' in Paper Tiger to match each holiday that you are organizing. You can then create labels from Paper Tiger software with numbers for you to attach to each of these boxes. Type the keywords in Paper Tiger's database to match the items you put into each box to help you easily find decorations later with a quick search in the database search engine. For example, we might not remember that we named the bin with "Fall Decorations" under "Thanksgiving", but if we put "Thanksgiving" or "turkey" or "fall" in the search bar, Paper Tiger will search the database based on the keywords we've input previously, and let us know which box or boxes we need to pull out. Following are the fields in Paper Tiger as an example:
Location = Decorations
Item#1 Name = Thanksgiving Box 1
Keywords = Fall decorations, I'm thankful plate, thankful placemats, turkey napkin holders, pilgrim man and woman, small plastic pumpkins, candles, candle holders, Thanksgiving harvest table kit
Item#2 Name = Thanksgiving Box 2
Keywords = cornucopia basket, silk flowers, Fall door wreath
Item#3 Name = Thanksgiving Box 3
Keywords = Fall theme blankets and throw pillows
Item#4 Name = Christmas Box 1
Keywords = small tree
Item#5 Name = Christmas Box 2
Keywords = small tree decoration items, balls, bells, garland
Item#6 Name = Christmas Box 3
Keywords = large tree for living room
Item#7 Name = Christmas Box 4
Keywords = large tree decoration items, balls, bells, garland, bows, doves
It will take a little effort to get things in order to begin with, but once you invest this initial work into the project, your holiday decorating will be easy as can be for each occasion. With Paper Tiger Filing System Software, the decorations are stored and the disarray that once consumed and cluttered your space is replaced with the joys of the holiday season. Paper Tiger will help preserve the life of your decorations, because they will always be stored away neatly instead of mixed in with everything else in the top of a closet. Money will be saved because you'll know what you have, and the efforts of searching for decorations will be swapped with a few strokes on a keyboard. Never worry about holiday decorations scattered throughout the house again, but know and embrace what you have and build upon it with creative new twists because you took the time to get organized.
If getting organized before the holidays is too much to think about now, make plans to get organized as you're putting the decorations away!
---
Tags: Clutter, Declutter, filing system software, get organized, organize holiday decorations, Organized, Paper Tiger "finding" filing system
Leave a Reply