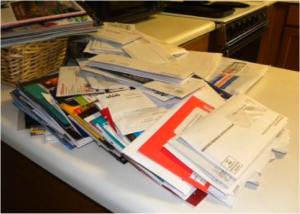 The kitchen counter is a magnet for clutter. It's the same routine everyday: set mail on the counter; pull out recipe card for chicken cacciatore; jot down telephone messages; flip through new magazine, clip a few coupons. After doing all of that, the kitchen counter is a mess and the disorder only grows with each passing day. Where is the electricity bill that's now three days overdue? Did you read the letter from your pen pal in Peru?
Finally, gain back your peace of mind with Paper Tiger Filing System Software and Document Management. Not only can Paper Tiger help make your countertops visible again, but also neat and organized! Here are three ways Paper Tiger can help you minimize clutter in your kitchen.
Open Mail - It's a hard habit to break, setting the mail down without looking at it upon arriving home. How can we organize with Paper Tiger if we don't know what we have? Open the mail as soon as you get home. Junk mail? Trash it! With Paper Tiger's easy database and locations, important documents or keepsakes received in the mail can always be easily filed and found. Paper Tiger's indexing system allows you to conveniently file paper in its original form; no scanning is required! Set a location for your hanging files and in Paper Tiger, index your paper files using keywords for important documents, from your medical, tax or education records. Keywords remove the hassle of naming a document and trying to remember it. Find your documents with ease through Paper Tiger's effortless search box!
Sort Through Bills – How many times have you racked up late fees on a bill that you couldn't find? It has been said that 23% of adults pay bills late and incur fees due to lost statements. Are you a part of that statistic? It's very easy for bills and monthly payments to slip through the cracks. Of course, Paper Tiger won't pay your bills for you, but with a little bit of work on your part, Paper Tiger can help your pennies add up. Sort through bills and figure out which ones need to be paid immediately and which ones aren't as pressing. You may even have an "Urgent" location in Paper Tiger to help you deal with bills that aren't quite ready to be permanently put away. The "Action Date" feature will assist you with time-management. Watch late fees disappear as Paper Tiger helps clear clutter simply by having a place to file your papers and a system to be able to actually find them again. Finding past statements will never prove impossible again!
Shelve Cookbooks and Magazines – Cookbooks and magazines are great to look at, but they deserve a home. We already know that Paper Tiger is not just for paper filing and document management. Cookbooks can take up quite a bit of space and cause disorder. Use Paper Tiger to number the spine of each book and choose a location for quick reference. Keywords can help you find different cuisines. Recipe cards can also be easily organized. Classify the similar recipes together and choose a location for them. Again, use keywords to help you easily find various recipes. Panang Curry tonight and Homemade Lasagna tomorrow is an easy feat.
Can you remember the last time you were able to sit and enjoy a whole magazine? Maybe you prefer to clip tidbits out the magazine that you find interesting, or maybe you like to tuck away the book for further reading. Whatever your preference, Paper Tiger can make sure magazines aren't on your kitchen counter, but put away for your leisure when suitable. Index the entire magazine using the straightforward labels or index your clippings in hanging file folders.
Utilizing Paper Tiger paper filing system software in just these few ways will have your countertops cleaner. Of course, there are other things on the counter, but minimizing paper is a gradual process. Follow these few tips as a start and Paper Tiger will have your entire home organized before long.
---
Tags: Clutter, Declutter, get organized, Productivity, The Paper Tiger 'Finding' Filing System
Leave a Reply