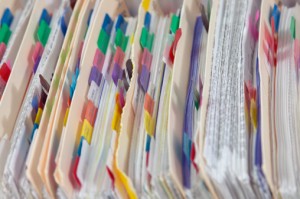 Filing systems and document retention is a living, breathing, evolving science. Each year brings changes and new challenges in the needs for document filing and retention requirements and guidelines.
Governments, organizations and businesses struggle to keep up with the ever changing flow of paperwork. Paperless systems are implemented and on average fail, because systems are not followed by everyone. Some people just have to print! Fear of loss and over taxed workloads hinder progress as the paperless war wages with the influx of scanner systems. The looming questions of what to retain and for how long, continue to consume untold resources for both paper and digital files.
With the onset of electronic communication, even more retention guideline planning is becoming necessary. Everything must be backed up from fragile devices to even more fragile devices and possibly backed up to a cloud-based back up system. Record retention guidelines need to be determined for electronic or digital files, as well as paper files.
Where do you begin to determine how to implement a system of document retention guidelines?
First you have to decide what paper files to keep and how long to keep them. Begin by determining the purpose for retaining each document type. From the IRS website: How Long to Keep Records. The IRS (or your specific country government tax related organization) has updated information regarding how to keep records and how long to keep them for tax purposes. You can use this information as a guideline when planning your policy for document retention and how long to keep records, however you should always consult your accountant before getting rid of any financial records and consult your attorney before getting rid of any legal records for advice on the length of time specific documents are legally required to retain.
After the legally required time has been determined to keep each type of document, guidelines need to be documented so that everyone can follow the policy that has been set. You won't have to guess every year what can be tossed or what has to be kept. It is important that everyone strictly follow the company guidelines, which should be determined by the legal requirements as stated above, because it can be just as legally damaging if a document is kept past the required time period.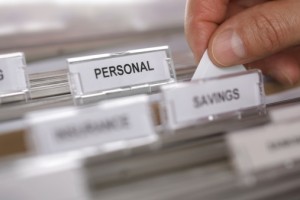 With a simplified filing system such as Paper Tiger in place, this becomes an easy task. Paper Tiger Filing System Software for Document Management can help you get your records in order and then be able to find them when you need them! You can use the Action Date function to remind you when you need to take action on records, including when you need to move them out of the current year's hanging file folders to an archived location, and then when you can purge them out of your files altogether. You can also note in Paper Tiger's database how long you need to keep each file even if it is indefinite. Paper Tiger also has a report entitled File Cleanout Report that is helpful when moving documents from file cabinets to an archived location. Decision should be made when files are archived as to if and when they should be destroyed. Archived boxes should be marked as to when they should be destroyed.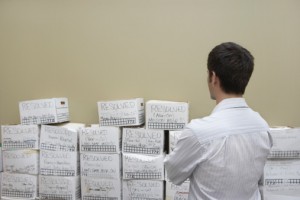 According to N&K, CPAs, "The answer varies depending on firm policies and the type of files. Generally, the files should be kept as long as they serve a useful purpose or until all legal and regulatory requirements are met. Businesses often base how long they keep files on the length of the statute of limitations for breach of contract, breach of fiduciary duty, and professional liability claims. The statutes, of course vary with each state."
And here is another example of a record retention guide published by the Massachusetts Society of CPAs: http://www.cpa.net/resources/retengde.pdf
Even more information at http://en.wikipedia.org/wiki/Document_retention
Litigation
With lawsuits and public scrutiny becoming increasingly popular, the need to substantiate actions with physical proof has grown dramatically. Notes and emails, which were once discarded, are now needed to prove the validity of corporate and government decisions. Subordinates should consider retaining any correspondence from superiors that may point to the rationale behind their decisions.
Client Records
Many businesses base their customer retention on superior customer service. This includes maintaining easy access to copies of client records. Clients, just like the businesses that serve them, have the same problems as large corporations with document retention, and often find it simpler to request another copy of documentation from its source than to keep it on file, or to locate that file. Determining which documents are most often requested, as well as their age, will simplify the process of creating client record retention guidelines.
Financial Documentation
Financial documentation is retained for a multitude of reasons, taxes, efficiency, profitability, growth, tracking, accounting, etc., guidelines as to their storage location must be determined. Financial documentation must often be reassigned a new location with the passing of time. While this may seem futile, an indexing system such as Paper Tiger filing system software makes the process simple.
Accountability
Almost all documentation falls under the category of proving accountability. Once the purpose of accountability for each document has been determined, it will be easier to decide on its association and to create a retention guideline. The value of accountability proof of many documents is not worth their retention; however, they may have many other uses.
Once the retention purpose for each document type has been established, its retention life and location can be determined. While document retention and creation of guidelines may seem overwhelming and even futile, an innovative indexing system such as Paper Tiger, allows companies to maintain their hard copy files and achieve near paperless efficiency, while providing the ability to adapt with the ever-evolving science of document retention.
It isn't necessary to discard old files to implement an updated filing system, however with the motivation to get organized after determining a document retention guideline specifically related to how you work, you might find yourself clearing some clutter from your file cabinets. By implementing the perfect indexing tool of Paper Tiger filing system software, a higher level of filing efficiency and document retention can be achieved, and you'll also be able to find what you need, when you need it!
---
Tags: document management software, document management system, filing system software, get organized, paper filing systems, Paper Tiger "finding" filing system, Productivity, records retention
Leave a Reply